Things to do in Tenerife-Top Rated Activities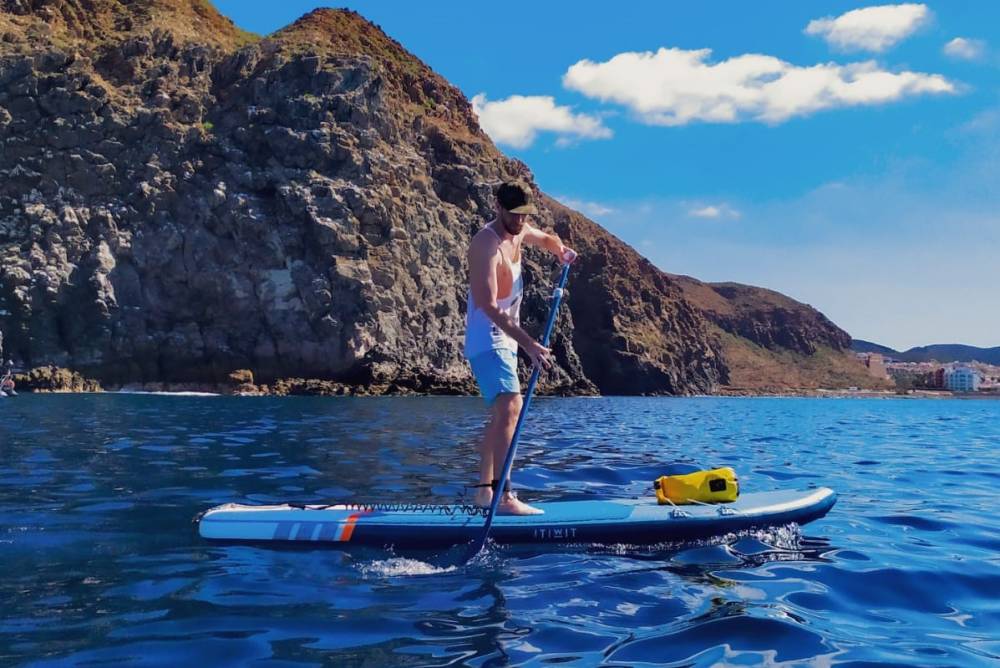 If paradise had a zip code, it would be #Tenerife 🌴
Tenerife is a small island off the coast of Spain that is teeming with attractions.
For nature lovers, there are plenty of hiking and biking trails to explore, as well as the geological marvel of Mount Teide. The island also has no shortage of beaches,from natural swimming pools to sandy beaches, perfect for sunbathing and swimming.
Tenerife is also known for its vibrant nightlife, with a variety of bars and clubs to suit every taste. And of course, no visit to Tenerife would be complete without sampling some of the local cuisine, which combines Spanish and African influences. Whether you're looking for adventure or relaxation, Tenerife has something for everyone, not surprising it is a well known holiday destination.
We put together the very best experiences that could all be highlights of your trip.
Top 5 Places to Visit in Tenerife

1. Explore Masca

2. Visit El Teide National Park

3. Take pictures of Los Gigantes

4. Spend a day in Santa Cruz de Tenerife

5. Get lost in the Anaga Mountains
Explore Masca, the Machu Pichu of the Canary Islands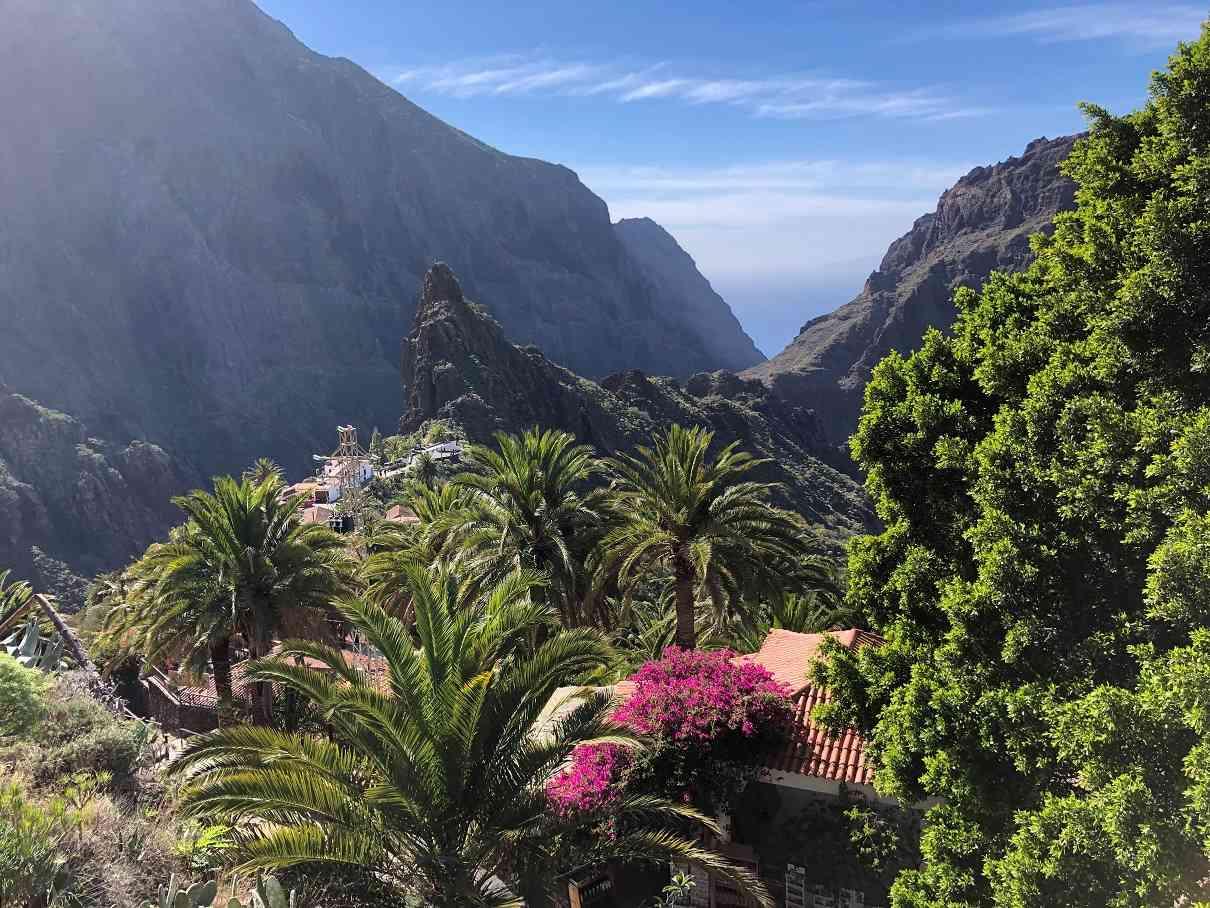 What to expect: Traditional-looking country houses, rough stone walkways lead Masca to be one of the best examples of timeless rural architecture in the Canary Islands.
Local guides say that the valley of Masca was a perfect hideaway for pirates to surprise and take over the ships that arrived from America.
Pro tip: Get there early, because the parking places are limited and try out the cactus ice cream.
If you're looking for an off-the-beaten-path destination, Masca in Tenerife is a great choice. This small village is nested in the mountains, and getting there is half the fun. The winding roads offer incredible views, and once you arrive in Masca, you'll feel like you've discovered a hidden gem. There are plenty of hiking trails to explore, and the views from the top are simply breathtaking. Even if you're not an avid hiker, take a walk around Masca and discover its charming streets and beautiful buildings. You won't be disappointed.
Visitors can also find a number of hiking trails in the area, making it the perfect place to enjoy some time outdoors. In addition, Masca is known for its stunning views - on a clear day, you can see all the way to the island of La Gomera.
Visit El Teide National Park, the World third largest Volcano

What to expect: Spain's highest peak, one of the 12 Treasures of Spain, spectacular volcanic landscape, UNESCO World Heritage Site - not a surprise that it is the star attraction of Tenerife.
Reaching the Top: The peak has 3.718 m in height. There are two options to get to the top. One is by cable car. Important: You need to obtain a permit, which can be done online on the Reservas de Parques Nacionales website. It is free of charge.
Second is by climbing all the way up.
Pro Tip: Book the cable car and the permit for afternoon hours, as most of the tourists are done by then.
El Teide National Park is the most visited national park in Spain, and it's easy to see why. Located on the island of Tenerife, the park offers stunning views of Mount Teide, the highest mountain in Spain. Visitors can hike to the summit, take a cable car up the mountain, or simply enjoy the views from one of the many lookout points. The National Park is also home to a variety of plant and animal life, including some endangered species. Whether you're looking for a challenging hike or just a relaxing walk in nature, El Teide National Park is definitely worth a visit.
Whether you're an experienced hiker or simply looking for a picturesque place to visit, El Teide National Park is definitely worth a visit.
Take pictures of the famous Los Gigantes, the 600 meters tall cliffs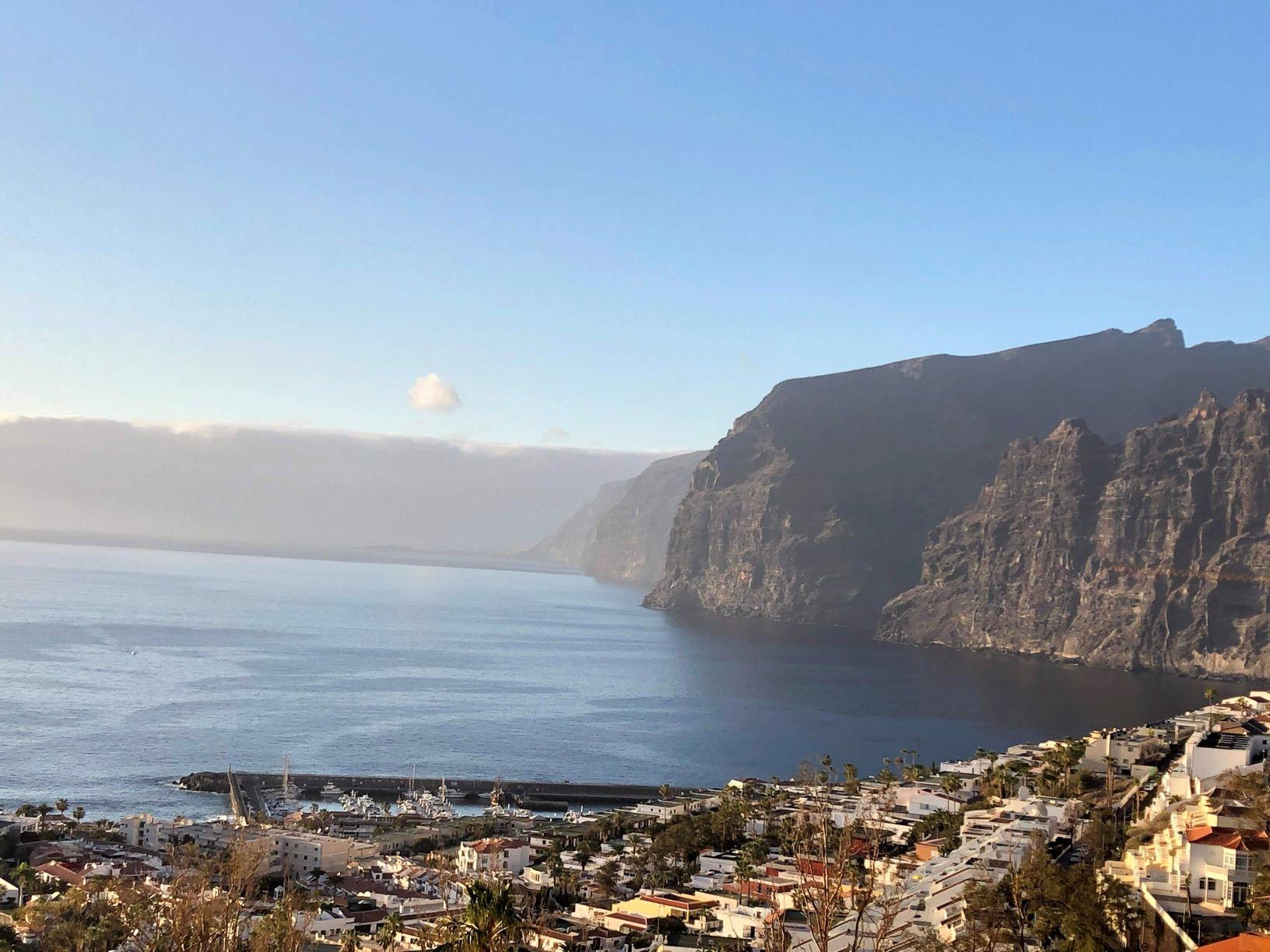 What to expect: The Los Gigantes cliffs were formed during one of the very first volcanic activity on the island.The aboriginal inhabitants of the island (Guanches) called the cliffs the Wall of Hell because for them it represented the end of the World.
Pro tip: Los Gigantes visit doesn't require a whole day. It can be part of a road.
Nestled on the west coast of Tenerife, the village of Los Gigantes offers stunning views of the nearby cliffs. towering more than 800 meters above the ocean, these massive rock formations are a sight to behold. Visitors can enjoy scenic walks along the cliff top, or take a boat tour to get a closer look at the majestic cliffs. Los Gigantes is also home to a variety of shops, restaurants, and cafes and a sandy beach, making it the perfect place to relax and soak up the sun.
It is also the closest point to La Gomera.
Spend a day in Santa Cruz de Tenerife, the capital of the Canary Islands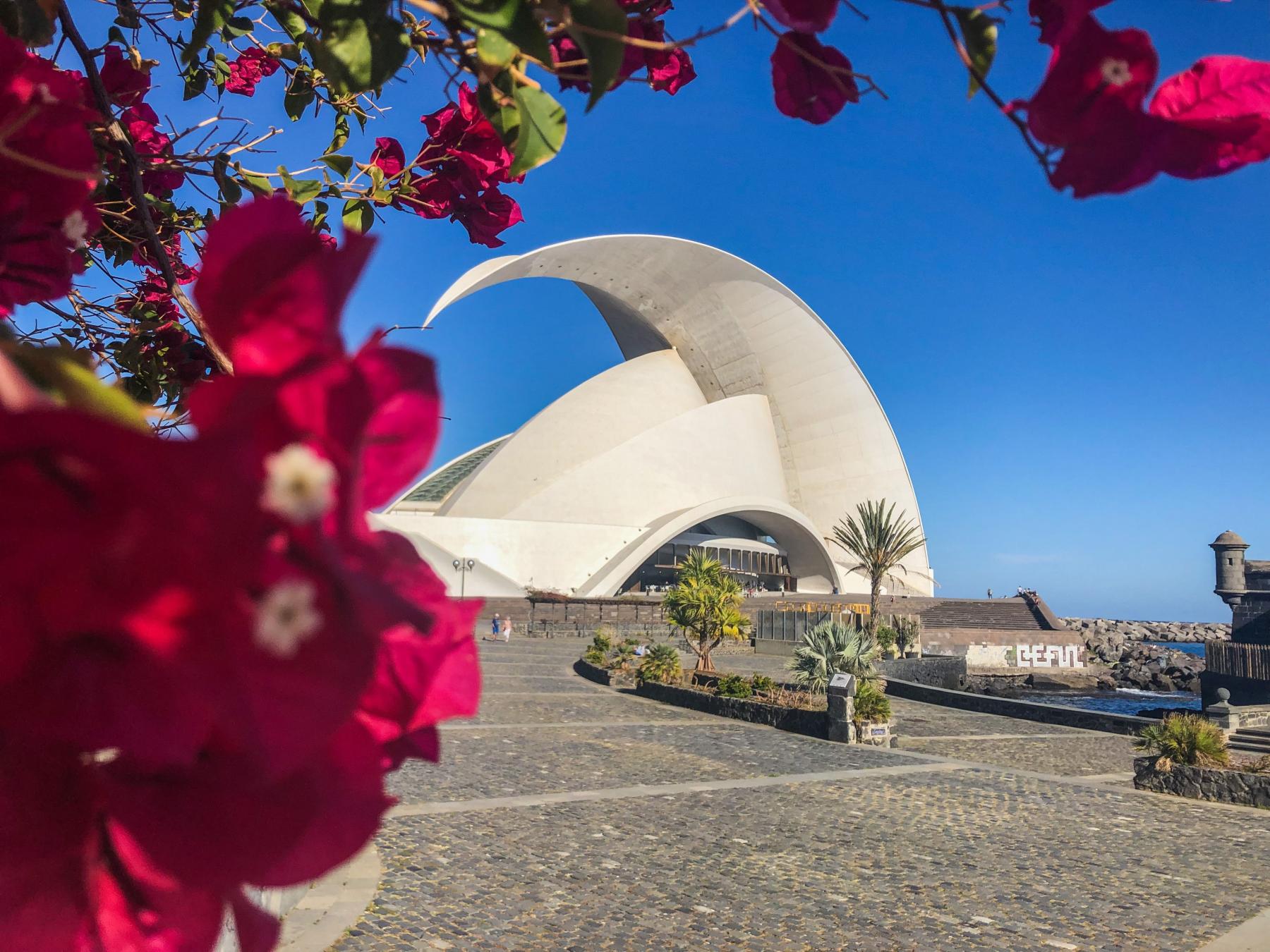 What to expect: Vibrant, cosmopolitan, cheerful city with attractive architecture, great shopping and a great variety of excellent restaurants .
What to visit:
The Auditorium is one of the most important and modern architectural works of the island. Designed by famous Spanish architect Santiago Calatrava and compared with the Opera House in Sydney.
Mercado de Nuestra Señora de África is a gastronomic treasure for travelers and also for locals.
Pro tip: Plan to have your lunch here as it is the gastro center of Santa Cruz.
No trip to the island of Tenerife is complete without a visit to its capital city, Santa Cruz de Tenerife. This vibrant metropolis is home to a variety of attractions, including the African market, the auditorium de tenerife, and the Parque Garcia Sanabria. No matter what your interests are, you're sure to find something to enjoy on a day trip in Santa Cruz de Tenerife.
The African market is a must-see for any visitor to the city. This open-air market is filled with stalls selling a wide variety of goods, from handmade crafts to traditional African clothing. even if you don't make any purchases, it's worth simply browsing the market and soaking up the atmosphere.
For those who enjoy architecture, the Auditorio de Tenerife is a must-see in Santa Cruz. This iconic building was designed by world-renowned architect Santiago Calatrava and has become one of the city's most recognizable landmarks. Inside, the auditorium is just as impressive as its exterior, with impeccable acoustics that make it one of the best venues in Europe for live music.
Get lost in the Anaga Mountains, a prehistoric paradise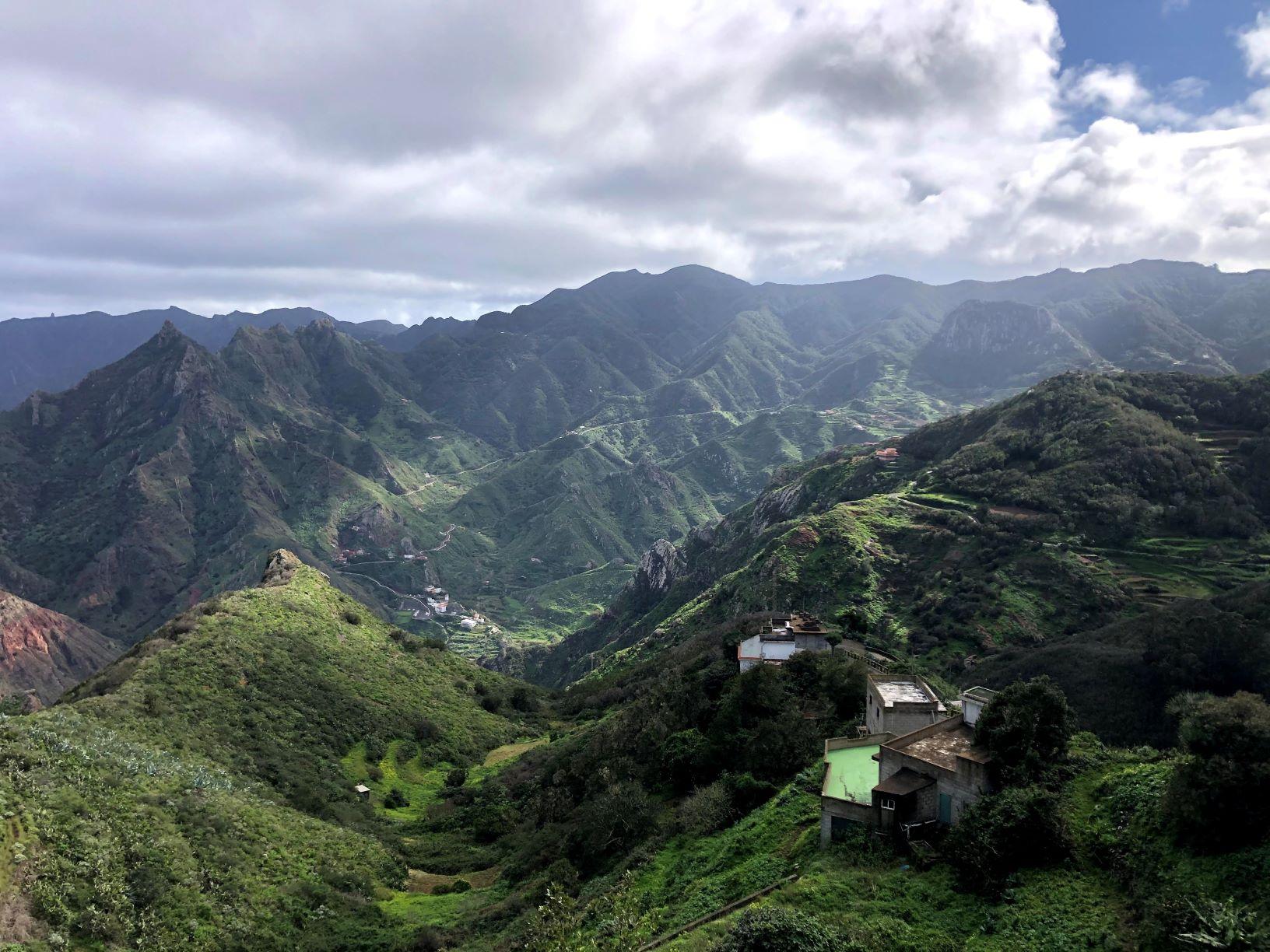 What to expect: The Anaga Rural Park is a UNESCO World Heritage Biosphere Reserve that consists of coastlines, ravines, jungle-like laurel forests and villages. These volcanic mountains were formed by an eruption about 7 million years ago.
Pro Tip: Leave the area before sunset as there is limited street lighting and the dense forest will create bad visibility in darkness.
There are few things more breathtaking than a panoramic view of the mountains. If you're looking for an adventure, the Anaga Rural Park is the perfect place to explore. The Anaga Rural Park is located in the northwestern part of the island of Tenerife and covers an area of almost 9,000 hectares. It is home to a wide variety of plant and animal life, as well as some spectacular views. The Teno Mountains, meanwhile, are located in the western part of Tenerife and offer stunning views of both the ocean and the mountains. Whether you're hiking, climbing, or just enjoying the scenery, a day trip to the Anaga Teno Mountains are sure to take your breath away.
Top 5 Things to Do in Tenerife

1. Go whale watching

2. Have fun Kayaking

3. Try out Paragliding

4. Explore the beauty of canyoning

5. Discover scuba diving
Go whale watching in Tenerife south
Why? There are few things cooler for both kids and adults than watching whales and dolphins in their natural habitat. And there are few places in the world where you can experience this all year long.
Whale watching is a popular activity for families due to the calm waters and great climate of south Tenerife. In general, tours in the morning hours are for families as the later afternoon trips are taken by those who want to swim or watch the sunset.
Pro tip: We recommend trips with smaller sailing boats as they are not so crowded and noisy.
You have two options:
This is perfect whale and dolphin watching tour, offering you a great experience in Tenerife
A whale watching boat trip from Playa de las Americas is the perfect way to see these amazing animals up close. Tenerife is one of the best places in the world to see whales, and there are many operators offering boat trips. Most trips last around two hours, and you'll have the chance to see sperm whales, pilot whales, and even orcas. You might also see dolphins, turtles, and rays.
Have fun Kayaking on the coastline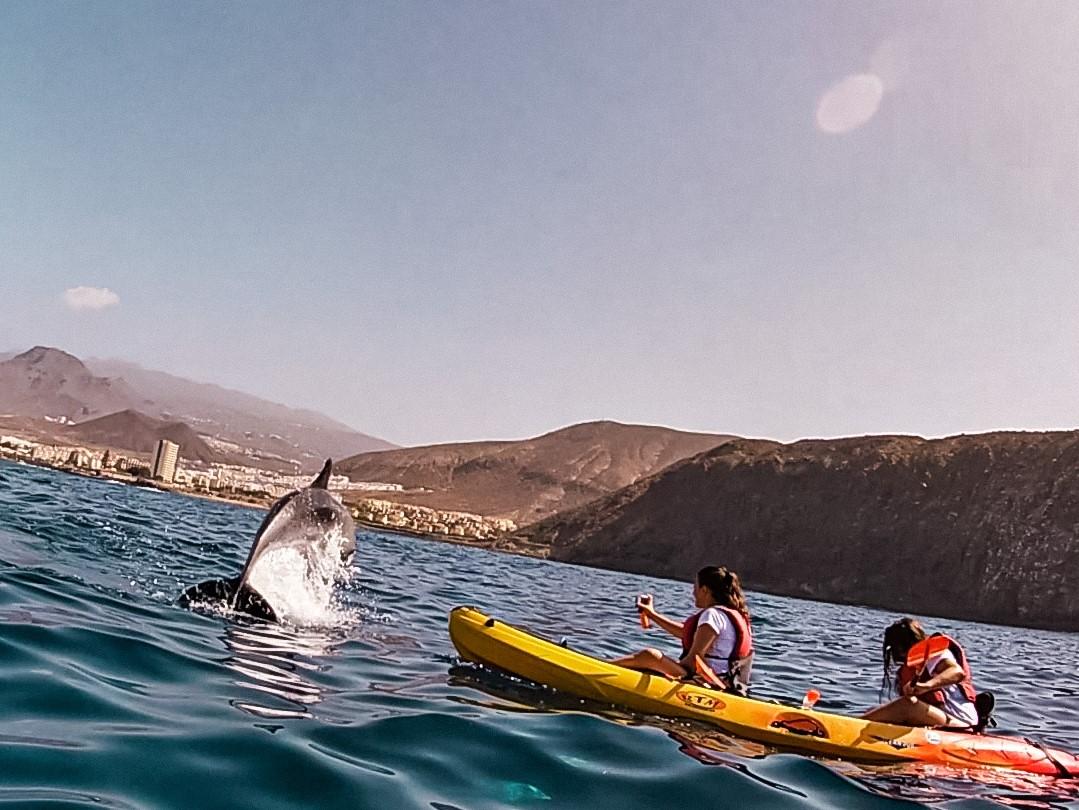 Why? It's short, it's sweet, and you're close to nature.
Kayaking is an awesome activity in Tenerife with stunning view. It is one of the best ways to explore Tenerife's magnificent coastline.
You will paddle in the open waters of the Atlantic Ocean, with dolphins swimming alongside you and if you're lucky you might see turtles also.
Pro tip: Waterproof your phone or your camera. It's wet and slippery out there, so bring a waterproof case for electronics or you can leave them in the kayaking school.
Tours are organized in the mornings as the ocean is the best for the activity and the chances to encounter dolphins or turtles are much higher.
Kayaking is a great way to explore the coast of Los Cristianos and Playa de las Americas. The tours typically last for two to three hours, and they take place in the morning or afternoon. During the tour, you'll paddle along the coastline, and you'll have the chance to see some of the island's most beautiful scenery. You might even spot some dolphins or turtles! Kayaking is a great way to get some exercise, and it's also a lot of fun.
Try out Paragliding above the coast of Tenerife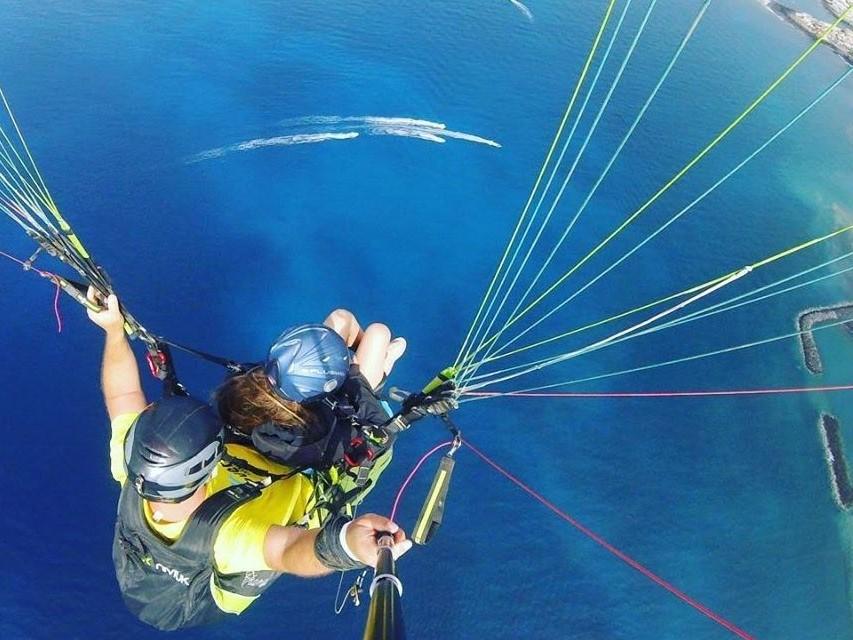 Why? To fulfil the dream of flying like a bird.
Tenerife from the air is spectacular. Is home to stunning mountain ranges, beautiful coastline, and valleys.
Each paragliding flight is different — some are technical some are exrtreme and others are for relaxation
Pro tip: Don't be afraid of the landing, it is the smoothest part of the whole experience.
Looking for an adrenaline rush? Then you should definitely try paragliding in Costa Adeje! This exciting activity is the perfect way to get your heart pumping while taking in some stunning views of Tenerife and the neirby island, La Gomera.
Tenerife is renowned for its strong winds, making it the perfect place to take to the skies. There are a number of reputable companies that offer paragliding tours, so you can be sure you're in safe hands. And what's more, you don't need any experience to enjoy this fantastic activity.
Explore the beauty of Canyoning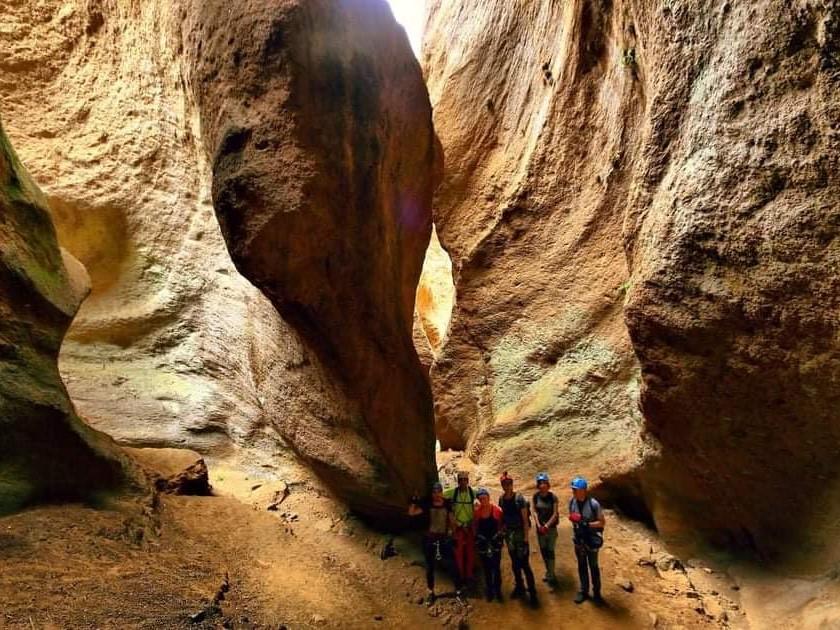 Why? Canyoning is one of the most entertaining and exciting activities you can do in Tenerife.
It is a full body and mind experience that enables you to explore some of the last forbidden places on the island.
The activity is done in remote and rugged places that are ideal for canyoning are often cut into the bedrock stone, forming narrow gorges with numerous drops, beautifully sculpted walls, and sometimes spectacular waterfalls.
Pro tip: Don't bring your favourite sneakers. It's not a shoe friendly activity.
For adventurous travelers, Tenerife also offers the opportunity to go canyoning. Canyoning tours typically involve rappelling down waterfalls, swimming through narrow pools of water, and hiking through dense jungle vegetation. The tour operator will provide all of the necessary equipment, and no prior experience is necessary. Canyoning is a great way to see some of Tenerife's most beautiful scenery, and it is an exhilarating way to spend a day. If you are looking for something different to do on your next vacation, consider a canyoning tour in Tenerife.
Discover Scuba Diving
Why? Scuba diving allows first-timers to come close and personal to the marine life of Tenerife.
From vibrant marine life to shipwrecks and abandoned caverns, crystal-clear waters which allow divers to see to 30 meters, diving is an experience you should not miss.
What can you see underwater? Turtles, angel and hammer sharks, whales, barracudas, rays, black moray eels and the list just goes on.
Diving with turtles is a great experience and divers frequently have the chance to meet but we must understand that they are wild animals and should be treated as such.
Pro tip: If you relax, they will also. If you stay as motionless as possible the turtles will be more likely to keep doing their thing and will hang out with you for longer.
Scuba diving is one of the most popular activities in the world, and it's easy to see why. There's something incredibly exhilarating about being able to breathe underwater, and it's an experience that everyone should try at least once.
Scuba Diving in Costa Adeje is a program that enables people who have never dived before to experience the underwater world in a safe and controlled environment. Once you have completed the program, you will be able to dive to a depth of 40 feet (12 meters) with a certified instructor. And who knows? You might even get to see some turtles! If you're interested in trying scuba diving, then Discover Scuba Diving is the perfect place to start.
In case you are considering a trip to Tenerife in September, check out first what's the weather is like.
+1 to do it Home-Online Guided Tour
Terife is a magical place, and there's no better way to learn about it than by taking an online guided tour. Not only will you be able to see the island's beauty for yourself, but you'll also be able to learn about its history and culture. The tour will take you to some of Tenerife's most popular tourist destinations, as well as off the beaten path places that most visitors never get to see. You'll also get to meet some of the island's friendly residents and learn about their way of life. Taking an online guided tour of Tenerife is the perfect way to prepare for your trip and ensure that you make the most of your time on the island.
Whether you're quarantined, self-isolating or just social distancing, we've put together an online tour that drives you across the western part of Tenerife to keep you excited until the travel ban is lifted. Hopefully, that will happen soon, but till than, be part

our online road rtip.
The trailer for the Online Guided Tour: