Where can you park you're campervan in Tenerife?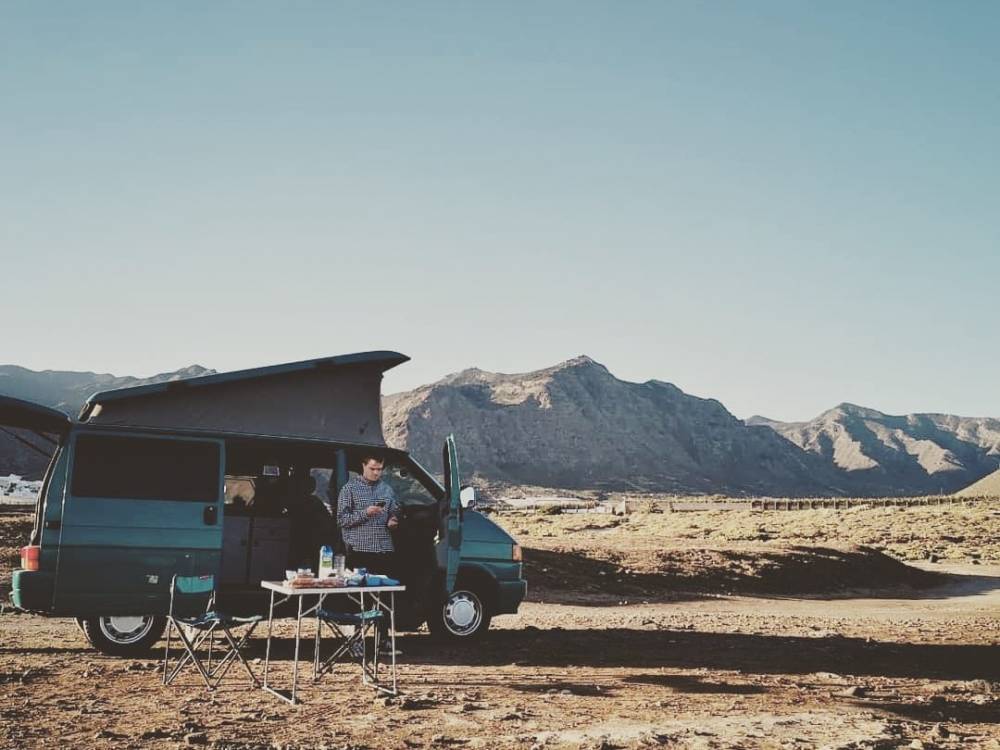 Camping in Tenerife is popular, no doubt it
As a land of the outdoors, it's not surprising that a night under canvas is a preferred accommodation for many travelers.
Tenerife is a breathtaking island with so much to see and do. And what better way to explore it than by campervan? With a campervan, you can go wherever you want, whenever you want. You can stop and admire the view, or head off the beaten track to find your own little piece of paradise. Tenerife has something for everyone, whether you're looking for adventure or just want to relax in the sun.
So why not give campervanning a try? You might just fall in love with the island all over again.
Where can you camp in Tenerife?
Forest camping ideas: These areas offer a very special free camping experience in Tenerife's North part. This is more than just fun to say — it affords campers many outdoor activities and a memorable time. There is plenty to do, such as exploring forest roads and nearby trails, either on foot or on a mountain bike.
All in all, the forest camping site allowes campers to return to real freedom camping.
You are allowed to stay in a Forest camping area for up to 7 days but you must apply for a permit. The permit is free and it can be done online but it needs to be done in advance (at least 7 days).
Our Top 3 is: El Lagar, Arenas Negras, Las Lajas
Apply here-> https://centralreservas.tenerife.es/?a=5
Montaña Roja: Is probably the best campsite on the island. It has excellent facilities like an outdoor pool, bar, restaurant and it is within a walking distance from La Tejita beach. As far as coastal camping goes, you couldn't find a better spot than this unique and picturesque place.
Make sure to bring a camera if you are a photography enthusiast because the famous Red Mountain boast shots you'll want to remember for life.
Montaña Roja plays host to travelers who have a hunger for the relaxing sound of the waves.
Reservations-> https://xn--campingmontaaroja-qxb.es/accommodation/caravana-furgoneta-o-autocaravana/
Agro Camping Invernaderito: This is a campsite with a secluded rural feel and a bohemian vibe.
It is located on the coast of Tejina in the northeast of the island of Tenerife. The place gives the
Opportunity to enjoy the impressive natural environments that the island has to offer.
In the area, you can find natural seawater pools and rocky beaches. The campsite is highly recommended for campers who are looking for activities such as hiking or mountain biking.
It has great facilities such as a fully equipped kitchen, bathroom, showers, and also a chill salon.
You can make your reservation on->http://campinginvernaderito.com/
Wild camping: Wild camping is illegal in Tenerife.
If you've camped before around in Europe you might be used to stopping at the side of the road somewhere or finding a nice spot in nature to park your car. Countries like Scotland, Iceland, or Finland also encourage wild camping. These countries are not the favorite betweens digital nomads or backpackers. They are expensive and they don-t have such a great climate. They don't offer great conditions for camping on a budget.
The other reason is that authorities make everything possible to stop any threat of a forest fire.
So, if you-re planning to live Vanlife in Tenerife, please make a reservation in one of the Forestal Parks or just stop by on camping, it will not cost you as much as paying a huge fine.
Campervan rental->https://palvigo.com/service/56/CamperVaningTenerife
So what are you waiting for? Book your campervan now and start planning your perfect Tenerife vacation.